2018 Jeep Wrangler Performance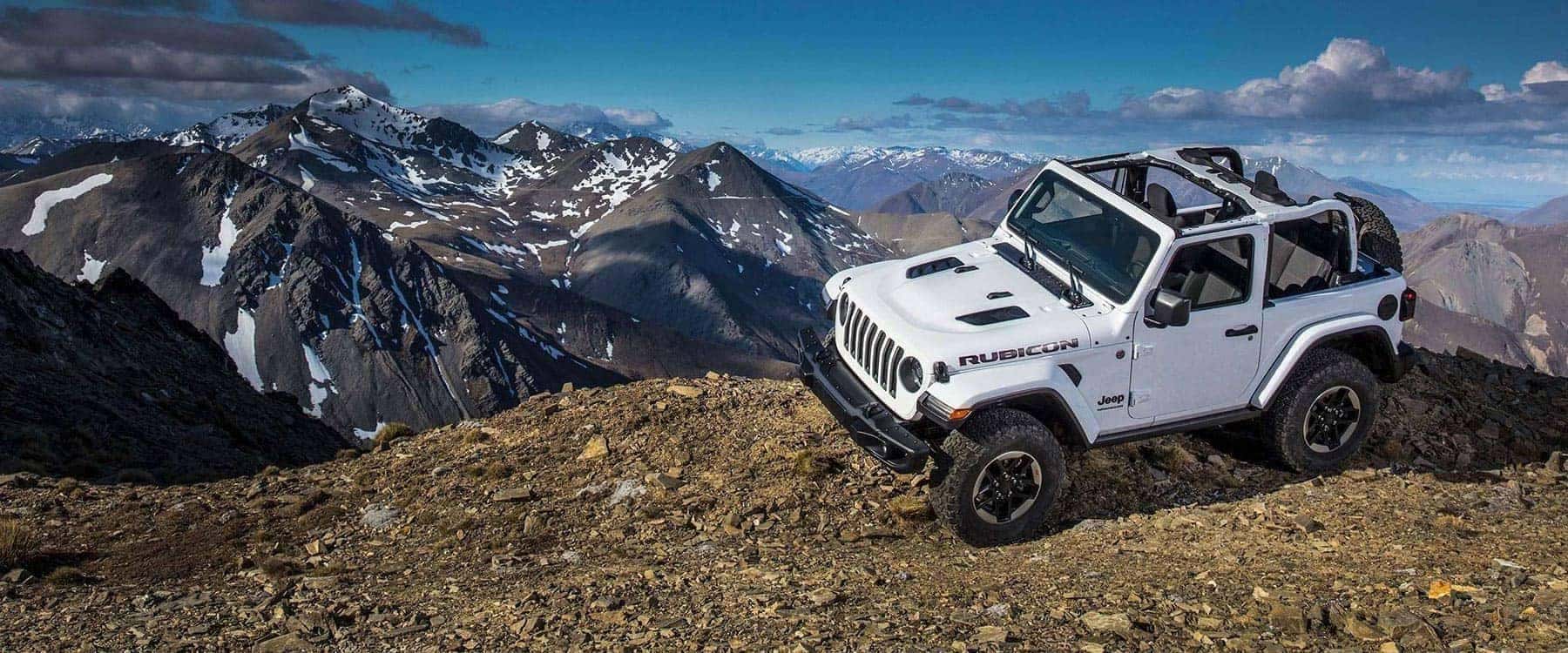 The 2018 Jeep Wrangler performance is what drives so many Nickerson and Newton residents to choose it over another vehicle. Whether it's specs or raw off-road capabilities you're concerned with, the new Jeep Wrangler has them in spades.
What to Expect from Jeep Performance
3.6L Pentastar V6: The 2018 Jeep Wrangler performance specs begin with a dependable, powerful, V6 rated at 285 hp and 260 lb-ft of torque. That's enough power for on or off-road driving.
2.0L Turbocharged Four-Cylinder: New for the 2018 model year, the turbocharged four-cylinder features eTorque hybrid technology that allows it to deliver impressive efficiency — up to 25 highway and 23 city mpg — while still maintaining an impressive 270 hp.
True 4×4: The COMMAND-TRAC 4×4 system and NV231 GII transfer case help keep you in control whether you're on blacktop, dirt, mud, or rocks.
Trail Rated: This badge is more than just a bit of flair; it shows that the Wrangler has passed a series of intense tests that prove it's ready for you to take it off-road, with the confidence that it will get you back onto the road.
Towing Capacity: With all this power, you didn't think you'd have to have a second vehicle for towing, did you The 2018 Wrangler is capable of towing up to 3,500 pounds — you might even be able to help pull a friend out of the mud if they're driving a less-impressive vehicle.
Find Your Wrangler at Allen Samuels Chrysler Dodge Jeep Ram
No matter your plans for your Jeep, we think the 2018 Jeep Wrangler performance specs make it clear that this SUV is up to the job. But you don't have to take our word for it — in fact, we'd rather you see the Wrangler in person. Contact Allen Samuels Chrysler Dodge Jeep Ram today to schedule your test drive and discover how each of the engines feels when you're in the driver's seat. And while you're here, discover what it means to lift your Jeep Wrangler, and how it can improve your vehicle's performance.
More About Jeep Wrangler Features
The 2018 Jeep Wrangler accessories available at Allen Samuels Chrysler Dodge Jeep Ram makes it easy to equip this rugged SUV for work or play around Nickerson.  Choices include roof-top cargo carriers, performance parts, and convenience features. Find out how you can customize your new Jeep with some Wrangler accessories at Allen Samuels Chrysler Dodge Jeep Ram near Buhler. Jeep Wrangler Inventory Interior Accessories While…

The 2018 Jeep Wrangler performance is what drives so many Nickerson and Newton residents to choose it over another vehicle. Whether it's specs or raw off-road capabilities you're concerned with, the new Jeep Wrangler has them in spades. Wrangler InventoryJL vs JK What to Expect from Jeep Performance 3.6L Pentastar V6: The 2018 Jeep Wrangler…