2019 Dodge Challenger SRT® Hellcat Redeye Overview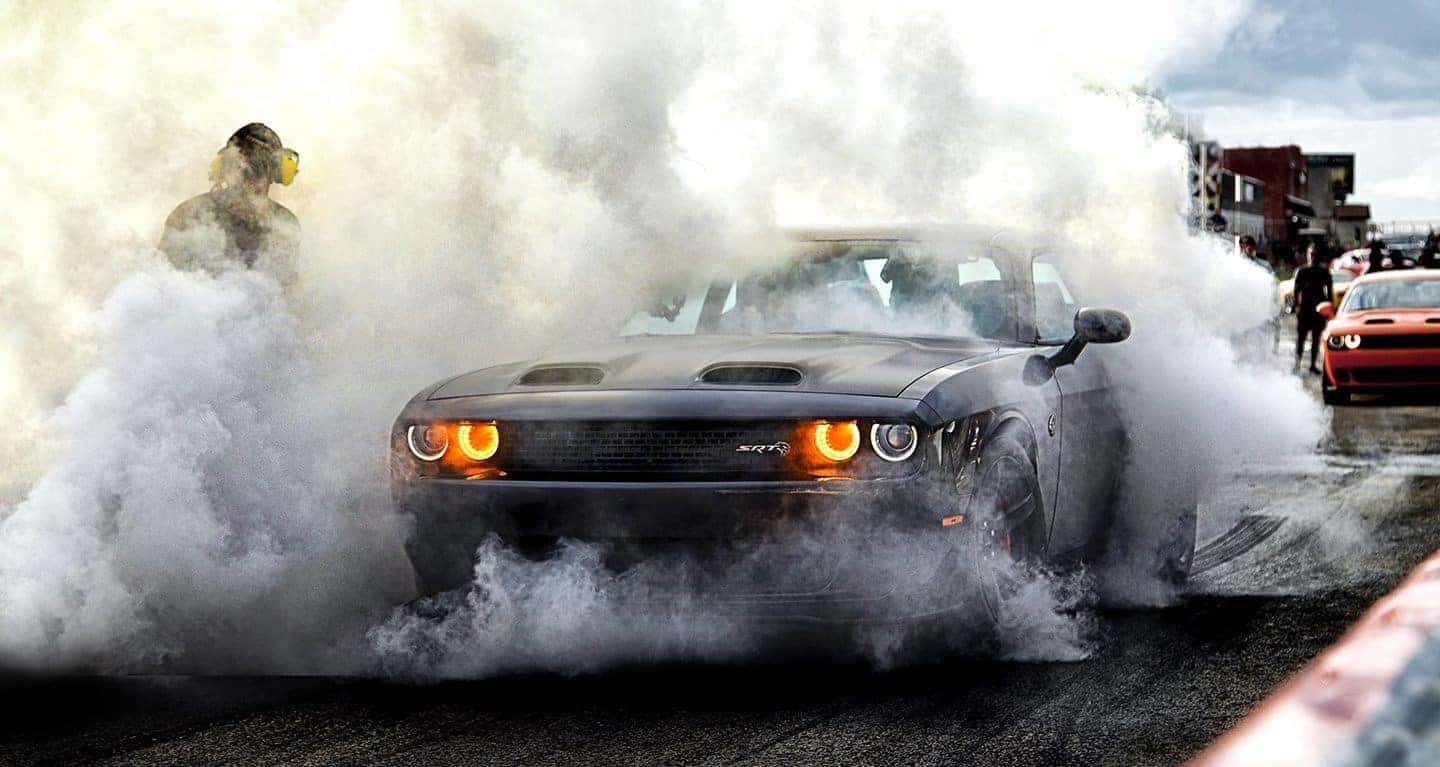 In terms of the impressive Dodge lineup of vehicles, the most powerful model may just be the 2019 Dodge Challenger SRT® Hellcat Redeye. If you're in Nickerson or Buhler and looking for a jaw-dropping high-performance muscle car, look no further than this high-tier Dodge Challenger model. The Hellcat Redeye, which is this year's replacement for the 2018 Challenger Demon trim, has a widebody style, configuration-exclusive drag-racing components, and an engine that boasts 797 horsepower. Need we say anymore? Discover all that the 2019 Dodge Challenger SRT® Hellcat Redeye has to offer with Allen Samuels Chrysler Dodge Jeep Ram, then head to our Hutchinson showroom to see one in-person.
2019 Dodge Challenger SRT® Hellcat Redeye: Performance
The Dodge Challenger is a car known across the country for its powerful performance capabilities, but the SRT® Hellcat Redeye trim takes the Challenger to the next level. Equipped with a supercharged 6.2L HEMI V8, the SRT® Hellcat Redeye offers Newton drivers a car that produces an eye-opening 797 hp and 707 lb-ft of torque. This power allows the Hellcat Redeye to produce these remarkable stats:
Top track speed of 199MPH
0-60MPH in just 3.4 seconds
A quarter-mile time of 11.2 seconds
When you account for the track-tuned suspension and adaptive dampers the Hellcat Redeye comes outfitted with, the vehicle offers more than just straight-line performance. The Hellcat Redeye pushes out impressive power no matter the kind of driving you're doing.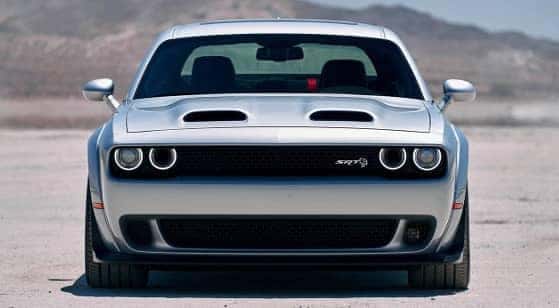 2019 Dodge Challenger SRT® Hellcat Redeye: Features
Much like the Demon configuration before it, the Dodge Challenger SRT® Hellcat Redeye has a Widebody Package that gives it a look unique from other Challenger models, especially thanks to its fender flares that add 3.5 inches to its overall width. Similar to other Challenger trims, the Redeye interior is highly customizable and can be outfitted with a vintage or modern look and feel. Some upgraded features include a rear backup camera, Wi-Fi capability, and Barcalaounger seating. Some more features include:
Driver selectable electronic power steering that allows owners to customize their driving experience.
Dual Scoop Hood and Satin Black Rear Spoiler that gives Sterling drivers the all-American muscle car look and feel they desire.
20×11-inch forged "Devil's Rim" aluminum wheels on 305/35ZR20 Pirelli® all-season performance tires.
Air-Catcher® Headlamps that feed cold air directly into the airbox for better performance.
Get Hands-On Experience with the SRT® Hellcat Redeye in Hutchinson
If everything you've read above has convinced you that you need this special vehicle, then please contact us and schedule a test drive today at Allen Samuels Chrysler Dodge Jeep Ram, or read more about the Challenger performance parts and packages. You won't want to miss out on the opportunity to drive this beast of a machine.
More Dodge Challenger Features
Everyone knows that Dodge has a history of making the most powerful, iconic muscle cars in America. The 2019 Dodge Challenger R/T Scat Pack keeps the tradition alive at under $40,000. Our Challenger Inventory Contact Us R/T Scat Pack: Performance Power The classic sports car lives! Feel the excitement of driving a 392 V8 SRT…

There's no denying that the latest Dodge Challenger continues the legacy of one of the most legendary American muscle cars of all time. Power and performance offer thrilling drives on Nickerson streets. One of the secrets to the Challenger's reign: versatility of configurations. The different Dodge Challenger trim levels and packages allow you to get…

In terms of the impressive Dodge lineup of vehicles, the most powerful model may just be the 2019 Dodge Challenger SRT® Hellcat Redeye. If you're in Nickerson or Buhler and looking for a jaw-dropping high-performance muscle car, look no further than this high-tier Dodge Challenger model. The Hellcat Redeye, which is this year's replacement for…