Explore Kansas with Your Kids!
Finding enough activities to keep the kiddos entertained isn't always easy. As parents, those of us here at Allen Samuels Chrysler Dodge Jeep Ram feel the pain. That's why we put our heads together and came up with this list of ways to explore Kansas with your kids! From Nickerson to Newton and beyond, these are our best kid-friendly activities in the area. Feel free to let us know if we forgot any of your kids' favorite spots. And if you need a reliable and safe ride to go to and from these great museums, parks, and gymnasiums, don't forget to check out the new Chrysler, Dodge, Jeep, Ram for sale at our Hutchinson dealership.
Cosmosphere
Remember when space was cool? Reignite the desire to explore the universe in your children with Cosmosphere (1100 N Plum St, Hutchinson, KS), a space museum, STEM education center, and so much more. Opened in 1962, Cosmosphere offers visitors the delight of the Hall of Space Museum, the Carey Digital Dome Theater for documentaries, a space-age naviGATOR simulator, and more. You can buy tickets for individual attractions, or splurge for the affordable unlimited access pass and make a full day of it.
Strataca
Here's a suggestion: salt. Wait, don't leave, there's more! Strataca (3650 E Ave G, Hutchinson, KS) is more than just a lesson on the mineral your kids put on their french fries, it's an underground mine—a real one—that you can explore with guided tours and train rides. Exhibits include the Dark Ride, a 30-minute ride on a tram detailing the difficulties of maintaining a mine, and True Geology, an exhibit that details how underground mining has contributed to our understanding of Mars.
Urban Air Trampoline and Adventure Park
The Urban Air Trampoline and Adventure Park (8545 W Irving St, Wichita, KS 67209) is sort of self-explanatory. The indoor trampoline facility hosts a wide range of fun activities, from a Warrior Obstacle Course to jump-filled birthday parties and dodgeball. Needless to say, this is a great way to wear the kids out!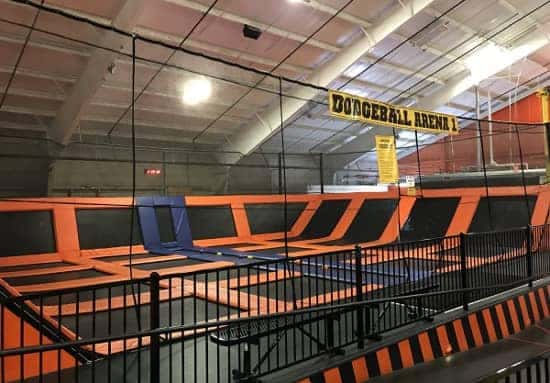 Notable Mentions
We could go on day and night about fun Kansas-area activities. From Buhler to McPherson, there's just so much to do in the Hutchinson area and beyond. Here are a few notable mentions if you run out of things to do:
Family Fun with Allen Samuels Chrysler Dodge Jeep Ram
Did we miss any great Kansas attractions? Simply reach out and let us know! We're always looking for more parks, gymnasiums and other day trip ideas to entertain ourselves and our families at Allen Samuels Chrysler Dodge Jeep Ram. Better yet, stop by and tell us in person. That way, you can test drive the family-friendly Jeep Grand Cherokee SUV.
More Activities in Hutchinson
Looking for some fun things to do in Hutchinson before or after going out to eat? Whether you're searching for something for the whole family, for a night out with friends, or even for a date night, there's a lot to enjoy around town. Take a look at some of our favorite things to do…

Contact Us Looking for a new lunch or dinner spot in Hutchinson? Allen Samuels Chrysler Dodge Jeep Ram is here with some of our favorite restaurants in Hutchinson, KS. Whether these are your Top 5 or not, we think you'll agree that they're some of the best meals in town. And while you're in town, discover our city's history and…