How To Get a Car Loan With Bad Credit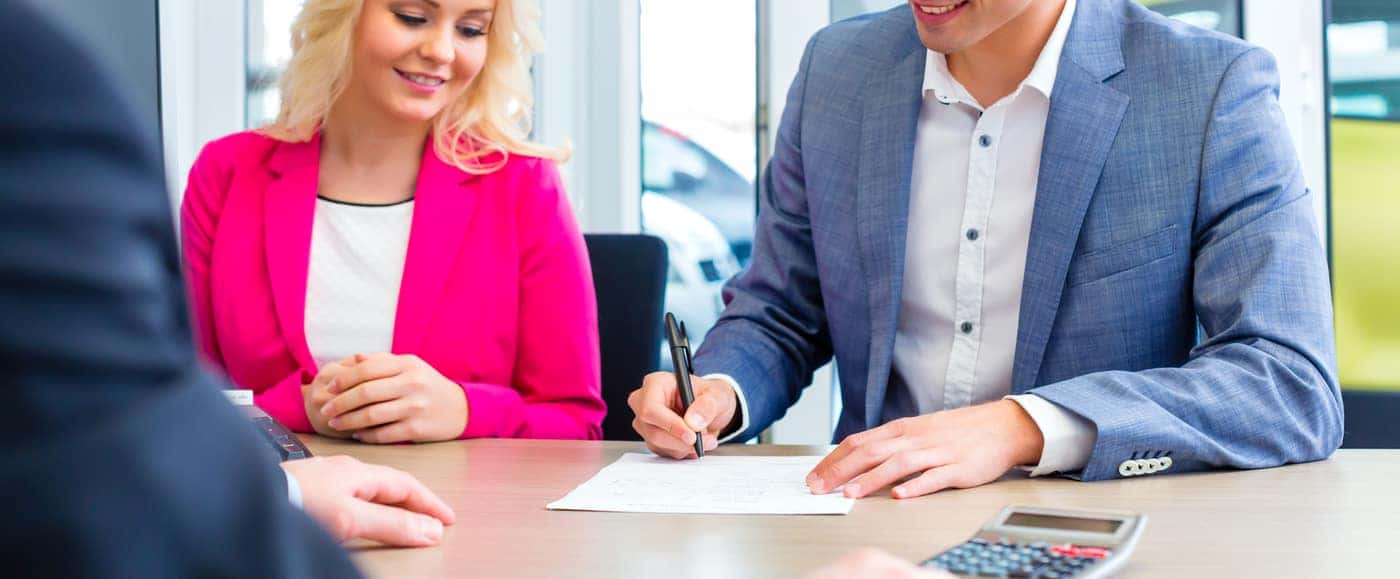 If you're driving around Nickerson and you have bad credit, you might think you're in for financing issues when it comes time to buy a car. However, financing a car with bad credit doesn't have to be off the table entirely. In fact, Allen Samuels Chrysler Dodge Jeep Ram wants you to know that if you're wondering how to get a car loan with bad credit, you can count on us to get you financed. Keep listening for our take on how to get a car with bad credit and while you're here, you can value your trade to find out what your old car is worth.
How Does Credit Factor Into a Car Purchase or Lease?
If you're wondering how to get a car with bad credit, you'll probably want to know that your credit score factors into things. Having a lower credit score means that you'll get lower monthly payments and will likely have the ability to switch to a shorter term for your loan, leading to lower overall payments.
Even if your credit score is bad, you can still get financed with our finance experts because we work with lenders from Buhler to Newton to provide flexible financing solutions for everyone.
Your credit score can be impacted by several things, including these factors:
The amount of available credit in dollars is a major factor in what your credit score is. If you have several credit cards that are close to or at their credit limits, your total credit usage will cause your score to drop. Meanwhile, if you have lots of credit sources but not much credit used, your score will be higher.
The diversity of your credit sources will impact what your credit score is. If you have just credit cards, your score will tend to be lower than if you have credit cards, a car loan, a mortgage, and other diverse sources.
The rate at which you pay your loans down will impact how good your credit score is. If you've missed payments, that will obviously cause your score to be lower.
What Steps Should I Take To Get Approved Bad Credit?
Wondering how to get a car with bad credit, step-by-step? Here's a helpful list of things to do:
Determine what kind of monthly payment you can afford.
Try putting more money down if you can.
Try improving your credit report prior to shopping for loans.
Be honest with yourself about how much car you can really afford.
Ask questions!
Allen Samuels Chrysler Dodge Jeep Ram is here to Help Secure You Financing!
If you've got money questions when it comes to a car, look no further than the fine people at Allen Samuels Chrysler Dodge Jeep Ram. You'll know you're at home when you walk into our showroom (or get in touch with us from the comfort of your own home!) and have a chat with our great sales staff. If you want to learn more, just contact us.
More from Allen Samuels Chrysler Dodge Jeep Ram
The RAM 1500 is an undisputed American icon on the Nickerson roads, and it's easy to see why! This light-duty pickup has always delivered legendary performance specs, powerful capabilities, and sophisticated features both on and off-road. But did you know that the RAM 1500 is a fuel-efficient RAM truck as well? It's true! Pickup…

How much your vehicle weighs might not be something you think about too often, but it's something that's important to know, especially when you're driving a heavy-duty vehicle that's built for towing and hauling. How much does a 2022 Ram 1500 weigh? The 2022 Ram 1500 curb weight ranges anywhere from 4,700 to 6,400…

Nickerson drivers can achieve the maximum 12,750-pound 2022 RAM 1500 towing capacity by selecting the ​​HEMI® V8 engine with eTorque—but that's not the only uber-powerful engine in the lineup! The RAM 1500 EcoDiesel V6 delivers impressive highway efficiency and a 12,560-pound towing capacity, and even the base engine can handle a hefty 7,730 pounds….