How To Fix a Dent in a Car

---
When you're making your way through Nickerson, you'll sometimes find that rocks, hail, or other debris cause small dents or scratches in your car. While bigger dents will require you to come in and get your car looked at by a service technician, smaller dents can definitely be tended to at home. If you're looking for how to fix a dent in your car—or maybe you want a truck lease deal for that next truck—Allen Samuels Chrysler Dodge Jeep Ram is here to help, both for Buhler and beyond.
Fixing Scratches on Your Car
Most of the scratches that you'll encounter on your car are clear coat scratches and can arise from pets, car washes, and other debris that you'll encounter in the course of your Newton drive. Scratches on your clear coat can be cleared up in a jiffy with tools you can find at home or at the local hardware store. Here are a few easy steps that explain how to fix scratches on your car:
Run your fingernail over the scratch. If your nail doesn't catch, the scratch isn't deep. If it does catch, you'll still be able to fix it if it's in the clear coat.
Use soapy water and a towel to clean the area.
Tape off the scratch so you know exactly where it's located. Fixing the scratch might make it harder to see.
Spray down some sandpaper with water. If you've got a deep scratch, use 3000 grit sandpaper. If the scratch is fine, you'll want to use 5000 grit sandpaper. Go against the grain of the scratch to smooth out the general area.
Keep spraying and sanding (with minimal pressure) until the scratch is gone. If you started using 3000 grit sandpaper, move on to 5000 grit and blend the scratch into the area around it.
Clean the surface one more time before using a clean microfiber towel to swirl some compound into the area. After you compound the area, use a microfiber towel to remove any excess and give a light buff to the surface. You may wish to repeat this step with a finer polish if the paint is still hazy.
Put on some wax to protect your clear coat and put a protective layer on your paint.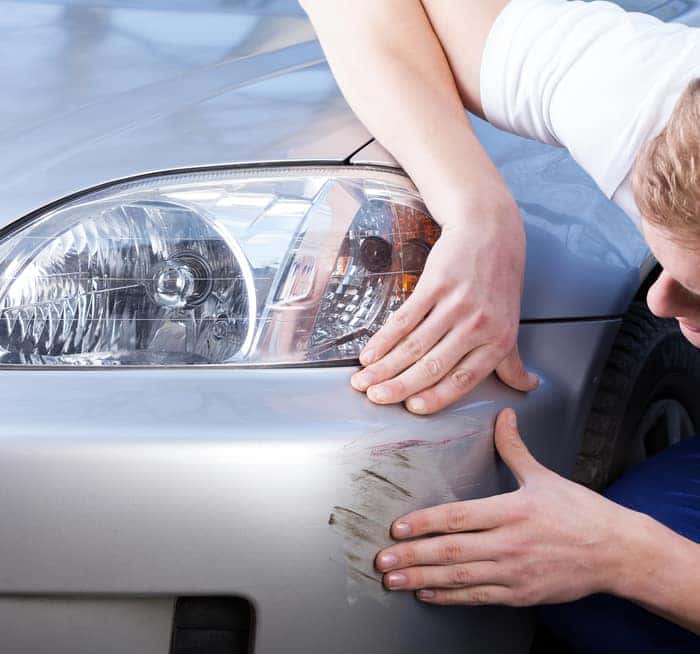 How To Fix a Small Dent in Your Car
There are a few ways to fix a dent in your car. There are two in particular that we recommend:
With a suction cup dent puller you can find at an auto store or our parts department, you'll be able to make a vacuum that can fix a small dent no problem.
If you remove the body panel in question, you can use a hairdryer to heat up the area around the dent for a few minutes then take a mallet and knock the dent back into place.
You're in the Right Place With Allen Samuels Chrysler Dodge Jeep Ram
At Allen Samuels Chrysler Dodge Jeep Ram, you can expect great service every time because we know what it takes to make the customer happy. When you shop with us, you're getting a convenient online shopping platform and sales staff that will get to know you and figure out the best car for your lifestyle. Time to find a better way of car buying? Contact us and let's get started. Our team is always ready to help, and we can also help you learn about when to change your cabin air filter!
More from Allen Samuels Chrysler Dodge Jeep Ram
Ready to command attention on the roads of Nickerson? The new Dodge Charger will ensure that you get noticed for all the right reasons. After all, there's a vast array of 2023 Charger colors to choose from, and there is truly something for everyone. View New Charger InventoryManufacturer Information Bold hues stand…

Shopping around Nickerson for a lightning-fast, brand-new Dodge? You'll find that the 2023 Dodge Charger 0-60 MPH times are guaranteed to add an adrenaline boost to your daily commute. Not sure how fast the 2023 Dodge Charger is? We here at Allen Samuels Chrysler Dodge Jeep Ram have broken down the 2023 Dodge Charger SRT® Hellcat 0-60 time, the…

The legendary RAM 1500 pickup is the height of versatility, delivering all the power and half-ton strength you need for your light-duty work, yet it's comfortable and agile enough for your Nickerson commute. In fact, the 2023 RAM 1500 interior is designed with ultra-comfort, convenience, and safety in mind, packed with features that have…