How to Lift a Jeep Wrangler

If you drive your Jeep Wrangler off-road around Hutchinson, you may be interested in lifting your Jeep to increase ground clearance for better off-road capabilities. Most Jeep owners have several questions when it comes to lifting their Wrangler, knowing which lift kit will suit their needs is one of them. Read on as Allen Samuels Chrysler Dodge Jeep Ram discuss why you may consider lifting your Jeep, and the various lift kits you may choose from.
What Are the Benefits of a Lifted Jeep?
Most commonly Jeep owners lift their SUVs to improve off-road performance, though some do it simply for the look and appeal. While a stock Jeep is very capable on tough terrains, a lifted Jeep can drastically improve your off-road performance. Drivers in Buhler have the option of buying a new Jeep Wrangler that comes pre-lifted at Allen Samuels Chrysler Dodge Jeep Ram, or bringing in the Wrangler they already own to be lift-fitted. Here are some of the benefits you get when you have a lifted Jeep Wrangler:
With added room between the vehicle's skid plates and the terrain underneath, lifted Jeep models gain better departure angles on off-roading obstacles and have advantageous incline capabilities.
The suspension system with a Jeep Wrangler lift receives an upgrade as well, sporting stronger springs that guarantee smoother landings in the vehicle.
A Jeep Wrangler lifted model is also suited with larger tires, which decreases rollover risk.
With improved suspension, a raised body, and performance tires, you'll enjoy greater clearance, better approach angles on steep ridges and rocky climbs, as well as greater articulation and stability. You'll be able to safely take on just about anything along your favorites trails.
Since a lifted Wrangler is taller than a standard model, you can see over a majority of other vehicles driving Newton's streets and gain superior visibility in areas of high traffic.
How to Choose a Jeep Lift Kit
There are numerous options when it comes to lifting your Jeep. There are many parts and accessories available for your Wrangler and as a result, there are countless aftermarket lift kits available. Choosing a Jeep lift kit is largely dependent on your driving habits and budget.
Here, we've listed some of the most common options:
Body Lift
A body lift is an inexpensive and simple way to lift a jeep. With a body lift, additional space is added between the body and frame. It provides 1-3 inches of lift while keeping the suspension and wheels stock. This lift is favorable for those you want to lift their Jeep for cosmetic reasons, as it doesn't actually provide enhanced off-road capabilities.
Budget Boost/Coil Spring Spacers
This type of lift consists of coil spacers placed on top of your Jeep's coil springs. 1.5-2 inches of lift is common. This type of lift is favorable for many because it doesn't require a lot of suspension modifications and factory ride quality is maintained. Like the body lift, this modification is mostly for looks and favorable for drivers looking to add larger tires.
Coil Lifts
With this lift, longer coil springs are added to your vehicle. This type of lift offers 2-3.5 inches of suspension lift. In addition, the taller coil spring provide increases articulation. This is a great type of lift for serious off-roaders.
Short Arm Lift Kit
A short arm lift kit includes everything found in a coil spring kit with the addition of longer front and rear control arms, bigger sway bar links, and shocks. Short arm lift kits are one of the most common due to their effectiveness. This lift allows over 2-6 inches of lift. It also gives great off-road capability and increased ground clearance and wheel travel. Because this kit is essentially a full suspension set up, this kit comes highly recommended for many off-roaders.
Long Arm Lift Kit
A long arm lift kit utilizes long control arms mounted further back on the Jeep frame in an attempt to provide better suspension angles. Long arm lifts give your Jeep extreme articulation and insane crawling ability. However, long arms can get caught up on rocks much easier and this kit is pricey. It also requires welding and fabrication to install. For this reason, the kit is best for professionals and enthusiasts who want to see their Jeep at its very best.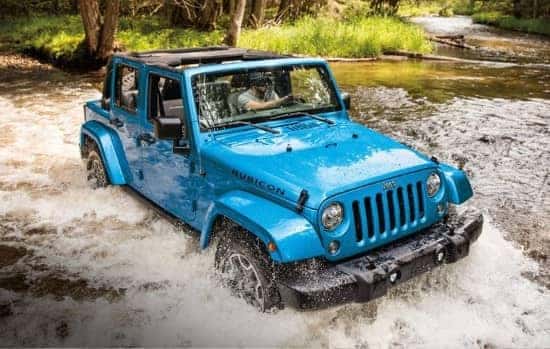 Ready to Lift Your Jeep?
Contact the service department at Allen Samuels Chrysler Dodge Jeep Ram, if you decide to add a lift kit your Jeep SUV. We also offer many parts and accessories, and can perform expert installation at our dealership.
More From Jeep Wrangler Features Allen Samuels Chrysler Dodge Jeep Ram
Drivers in Nickerson and Buhler looking for a stylish, off-road-capable SUV should look no further than the 2019 Jeep Wrangler. This fan-favorite Jeep model comes in a handful of different trims, each with its own exterior colors to pick from. With 10 possible colors in all across the different versions of the new Wrangler, you're…