What is a timing belt? How much is a timing belt? These are all important questions for Nickerson drivers to consider. Learn more about when to know if your car needs a new timing belt and how much it could cost you with Allen Samuels Chrysler Dodge Jeep Ram.
What Is a Timing Belt?
Timing belts are also known as cambelts (timing chains for engines with larger bores and strokes) and they play a critical role in how internal combustion engines work. Timing belts harmonize camshaft and crankshaft rotation; if both are in sync, the valves and pistons can operate smoothly. Valves control air/fuel mixture intake and exhaust gas and move the pistons down as fuel ignites in the combustion chamber. Whether you drive a new Chrysler, Dodge, Jeep, Ram or another model, a healthy cambelt is important.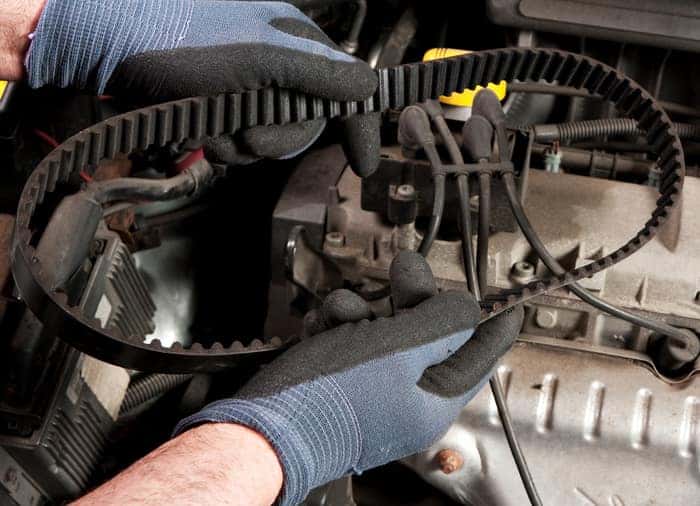 How Much is a Timing Belt?
How much is a timing belt? If your vehicle's timing belt breaks, the valves won't open and close at the correct time. This means they will hit the pistons and the car will very likely need expensive repairs — up to $2,000+ if the valves, water pump, and pistons are damaged. If no damage has occurred, Buhler drivers can expect to pay around $500 to $1,000 with parts and labor costs. As a rule of thumb, most manufacturers recommend replacing the belt every 60,000 miles to 100,000 miles.
Signs Your Car Needs a New Timing Belt
Whether your car has a rubber belt or a timing chain, it's easy to tell when the vehicle part needs replacing. If you notice any of the following warning signs, schedule service at Allen Samuels Chrysler Dodge Jeep Ram's service center near Newton:
Ticking noise coming from the engine
The engine won't turn over
The engine acts up between 2000 – 4000 RPM
The engine misfires
More smoke and fumes than normal
Oil leaks from the front of the motor
Timing Belts vs. Timing Chains: What's the Difference?
Timing belts and timing chains have the same job. The major difference between these parts is what they're made of and where they're located. Keep in mind, timing chains are constructed of metal, whereas timing belts are made of reinforced rubber. Since they're made of a softer material, belts are quieter than chains and can be found on the outside of the engine. On the other hand, timing chains are found inside the engine and use engine oil for lubrication. Recently, upgraded timing chains have become increasingly popular since they often last longer than timing belts.
Car Maintenance Tips and More from Allen Samuels Chrysler Dodge Jeep Ram
Whether you're looking for service tips and trips or assistance finding the perfect new vehicle for you, the expert team at Allen Samuels Chrysler Dodge Jeep Ram is here to help. Keep your vehicle humming with the latest vehicle parts. Still in need of assistance? Contact us today with any questions you may still have.