Why is Tire Rotation Important?

If you want your car running well through Nickerson and Buhler streets, then you'll have to keep up with your maintenance schedule and auto service check-ups, which includes tire rotations. But what why is tire rotation important? Well, this actually helps extend the life of your tires and maintain better traction on the road. Learn more about why tire rotation is important with the experts at Allen Samuels Chrysler Dodge Jeep Ram, who even provide helpful tips like how often to rotate tires. Schedule a service appointment with us today!
What Happens if I Don't Rotate My Tires?
First, you'll need to know how often to rotate tires. We suggest that you schedule a service and have your tires rotated every 5,000 to 7,500 miles. You can easily line this service up with every time you get your vehicle's oil changed and kill two birds with one stone! If you don't rotate your tires on a consistent basis, then it can lead to these terrible outcomes:
Flat tires and blowouts
Rapid deterioration of brake pads
Poor traction and skidding on the roads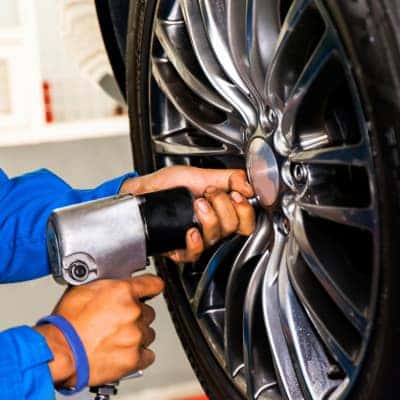 How Does Drivetrain Affect Tire Rotation?
Regular driving, which includes braking, accelerating, turning, and more, all wears down on your tires. Along with your general driving habits in Newton, depending on the drivetrain of your vehicle, the treads on your tires will wear out at varying rates.
Front-wheel drive vehicle: When a vehicle is a front-wheel drive, the engine power goes to the front wheels. The wheels on the front end are then responsible for starting, steering, and stopping, all of which wears heavily on tires.
Rear-wheel drive vehicle: For a rear-wheel drive vehicle, the engine power is instead directed to the rear wheels. Still, front wheels are responsible for the steering of the vehicle as well as much of the stopping power, but rear tires will still wear out faster due to the acceleration.
All-wheel drive vehicle: With an all-wheel-drive car, the engine's power is distributed evenly among all wheels, although some experts believe that the rear tires will again wear out a little bit quicker.
Intelligent all-wheel drive systems: Intelligent all-wheel-drive systems can actually automatically distribute the engine's power to a specific wheel when driving around corners. If you take more right turns than left, then this could mean that one side of tires will wear quicker than the others.
Learn More About Auto Services with Allen Samuels Chrysler Dodge Jeep Ram
Now that you know why is tire rotation important, contact us and bring your car into our service department in Hutchinson and our experts will have your vehicle up-and-running in no time! You can learn more about the difference between rotating and balancing your tires and even check out our Mopar service specials and save some money on your next visit. For more information like this, discover how often you should change your vehicle's oil, how to change your engine air filter, and what your car maintenance schedule should be!
More Tips From Allen Samuels Chrysler Dodge Jeep Ram
It's important to change your oil regularly and maintain vehicle health, but how often should you change your oil? In the past, experts recommended oil changes every 3,000 miles, but advances in oil and engine technology have extended that interval to as much as 10,000 miles. You should always check your owner's manual, but most…