Is it Possible to Lease a Used Car?

The majority of car leases involve the purchase of a new vehicle, but some dealerships offer a program where drivers can also lease a used car, truck, or SUV. There are some hurdles to cross in these circumstances so let's find out what it takes, and how we can help introduce Nickerson and Buhler communities to used car leasing.
How To Get Started in Used Car Leasing
Choosing a used car leasing option can open up a whole new set of options for drivers who want to keep costs down, while also retaining the benefits of what a normal leasing arrangement brings. These are the main points to be aware of:
Insurance for a Leased Used Car – Insurance costs for a certified pre-owned vehicle may be lower when choosing to lease, but in most cases, the premium amount depends on the cost of the used vehicle.
Used Car vs. New Car Lease – Monthly payments ona used car lease are much more affordable than with a new car lease. Don't forget that mileage restrictions still apply and the vehicle does need to be returned at the end of the lease period.
Eligible Vehicles for Used Car Leasing– Generally, only CPO cars, trucks and SUVs are eligible for leasing but call us ahead of time to see if we have other used vehicles that might have become available for lease.
Can I Buy a Used Car After I Lease? – Most dealerships allow the purchase of a vehicle once a lease period ends. We suggest contacting your dealer representative to confirm before the end of the lease.
Extended Warranties – Typically, extended warranties are available for purchase during a used car lease to help offset repair costs, which is yet another way to make the lease agreement more affordable.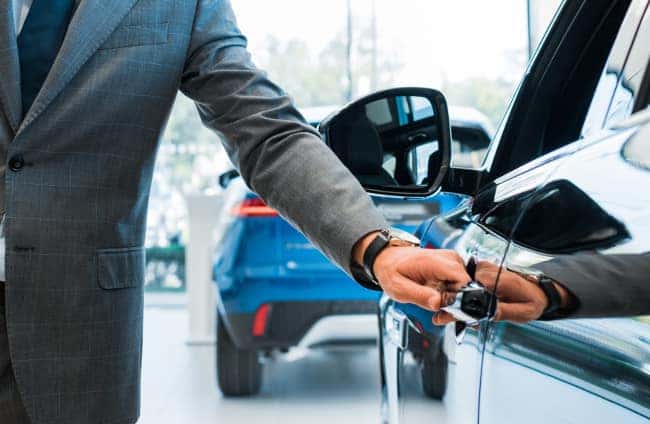 Why Lease a Used Vehicle From Allen Samuels Chrysler Dodge Jeep Ram?
Now that we've answered the question, "can I lease a used car?", we should point out a couple of different ways to save big when you purchase a vehicle in the Newton area. Check our inventory of used vehicles under $10K where you'll find quality used vehicles for less, and if you're interested in trading in your current vehicle, you can reduce your initial outlay to make buying that dream car easier.
If you have any questions about leasing a used car that we didn't cover here or you would like to know what is Gap protection, feel free to contact our finance department, who are happy to help you find the lease or finance option that works best for your needs and lifestyle. Contact us today to get started!